2016 Planners Forum Recap
Annual gathering showcases planning practice in the
Fox River Corridor
This year the Village of Montgomery was the host of Kane County's annual Planners Forum. For the second year running the forum continued with the theme of highlighting a specific corridor in Kane County and discussing the important role that planning has played in shaping adjoining communities. The Fox River was this year's featured corridor, which has been the subject of both small-scale municipal and larger scale regional planning initiatives. The forum's morning session presentations where delivered at Montgomery's recently constructed village hall.
Richard Young, Montgomery's Community Development Director, discussed the Village's new marketing initiative, "Montgomery in Motion," and its goal of driving redevelopment efforts in the downtown. The project comes on the heels of planned activities designed to enliven the riverfront and surrounding communities such as Montgomery Fest and the River Run 5K/10K race in October.
Executive Planner, Karen Miller, discussed the Fox River Water Trail Initiative, a multi-region effort including Kane County to apply for a National Water Trail System designation with the National Park Service. According to the National Park Service the National Water Trail System consists of waterways that are publicly accessible as recreational amenities and are supported by broad-based community partnerships. The benefits of such a designation might include opportunities for obtaining technical assistance and funding to plan and implement water trail projects as well as assistance with stewardship and sustainability projects.
This year's Planner of the Year honoree was
John Houseal
, Principal with Houseal Lavigne Associates. The
Fox River Corridor Plan
, completed by CMAP with the Villages of Algonquin and Carpentersville, was recognized as Kane County's 2016 Plan of the Year.
For more information about the Kane County Planners Forum, please contact Matt Tansley with the Kane County Development and Community Services Department. Contact Karen Miller with any questions about Kane County's role in Fox River Water Trail Initiative.
Kane Forest Preserve District Survey
Residents and users polled on satisfaction with District amenities
The Forest Preserve District of Kane County is seeking input from area residents and users of the District's amenities to support budgeting and master planning efforts. The 2016 Resident Survey, available via the district's website at
www.kaneforest.com
, polls users on district amenities, frequency of use, overall satisfaction, activities offered, nature programming, district priorities and more.
"The opinion of Kane County residents is really crucial to our success as a district," said Executive Director Monica Meyers. "The preserves exist to serve our residents, and this survey is a tool for us to know whether we're meeting our residents' needs, and what the community's priorities are. Our hope is that as many households as possible take the time to share their ideas and opinions with us."
The survey can be accessed
here
and will remain open until December 31, 2016. For more information on the District's 2016 accomplishments, download a copy of the
2016 Progress Report
or contact Executive Director,
Monica Meyers
. The content for this article was provided by
Kane County Connects
.
Technical Assistance for Multi-Community Complete Streets Projects
Smart Growth America extends program application
deadline to February 2, 2017
Smart Growth America has extended the application deadline for its newly debuted technical assistance program, the
Complete Streets Consortium Series
. This program is an opportunity for three communities from the same state to work closely together to implement Complete Streets-streets that are safe and accessible for people of all ages and abilities. The three communities, which can be any unit of local government or combination of them, come together to form a consortium, apply as one, and receive the workshops over the span of a couple months. As with the standard Complete Streets workshops, the Consortium Series workshops will be tailored to local contexts and barriers to Complete Streets implementation.
If your community is interested in implementing Complete Streets but needs help making it happen, consider joining with two of your peers and applying for the workshop series today. Applications are due
Thursday, February 2, 2017
.
Complete eligibility details can be viewed in the PDF version of the
application
. An online
form
is also available for interested applicants to complete their registration. Questions and pre-application assistance inquiries can be emailed to
assistance@smartgrowthamerica.org
.
Climate Adaption Webinar
Webinar features climate adaption projects in US communities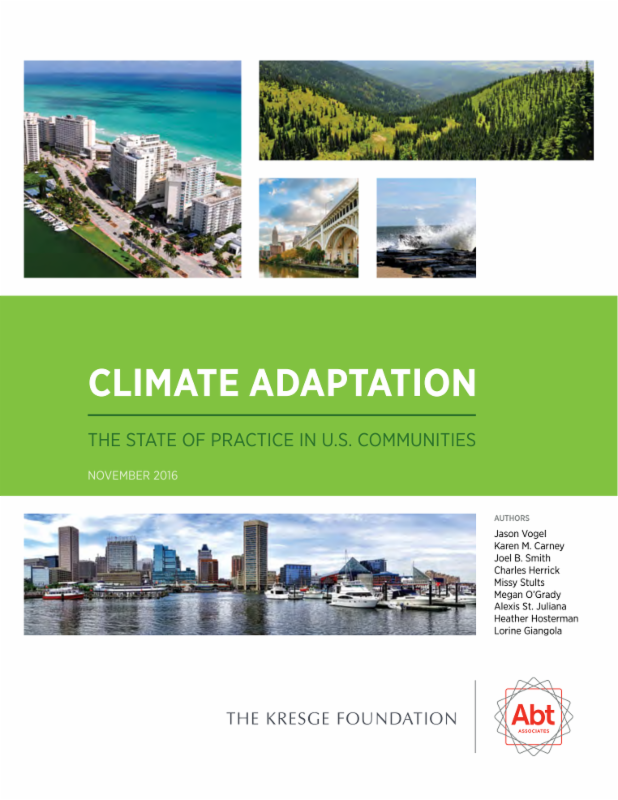 The
A
merican Society of Adaptation Professionals
- an ISC project - kicked off a series of webinars on December 14 with a dynamic webinar on the newly released Kresge Foundation and Abt Associates report:
Climate Adaptation: State of Practice in U.S. Communities

.
The report highlights the rich array of climate adaptation activities taking place across U.S. communities and features collaborations across diverse stakeholders, from municipal staff and community leaders to state and federal agency employees.
Check out the
webinar recording
and hear from speakers in case study locations such as Chula Vista, CA; Tulsa, OK; and Flagstaff, AZ, along with Jason Vogel of
Abt Associates
who will summarize the cross-case findings and tactical recommendations.